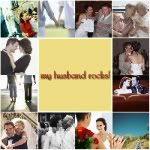 This week my husband rocks because of his commitment. Months ago I made a silly statement. I said I wanted to do a triathlon. At the time, it was a silly statement because I didn't even have a bike.
J.R. and I came across a particular triathlon and I talked about doing it for some time. I wavered on whether or not to do this triathlon. I was scared. However, J.R. pushed me the whole way. He kept supporting me in every way possible assuring that I would in fact accomplish this crazy idea.
At one point, we were in a store and we found an amazing deal on a great swimsuit for me. I wavered on whether or not to actually buy the suit. J.R. asked me why I wouldn't get it, it was a great deal. I then told him that if I did buy the suit it meant that I really was going to be doing this triathlon. He turned to me and said, "well, then you're definitely getting it."
Not only did he support me so well during this whole process, but he agreed to do it with me. He was there with me every night as I dragged him to the gym for our many training runs, bikes and swims. Don't get me wrong, there was a lot of moaning and groaning about the process, especially at first. However, he was with me every step of the way. I am so incredibly proud of him.
So this week my husband rocks not just because he has supported me in my crazy ideas every step of the way, but he has stepped up to do them with me.

I'm so proud of you!