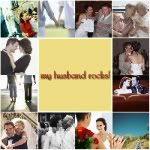 Last week I came home to find this on the garage door.
Inside this was on the refrigerator.
This was on the stairs banister.
This was on the landing.
This was in the upstairs hallway.
And this was waiting in the bedroom for me. (Excuse the unmade bed and messy room.)
The entire house was lit by candlelight only.
This is why my husband rocks!