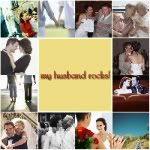 I'm really going to try to get back into the swing of blogging more frequently. I figure at least doing this once a week is about the best one I could do all week anyway, so might as well start here. :) And now I'm at two weeks in a row, a small miracle considering my recent history.
Anyway on to why my husband rocks this week. As I'm sure most are aware, Monday was Valentine's Day. Typically, J.R. and I don't do a lot to commemorate the day. The sentiment of the day is nice but a big deal is not necessary in either of our books. (Last year, we were in the middle of a store shopping and came across gifts we wanted to give each other. So we bought them and gave them to each other right then and there. No cards, that's it.)
This year I decided to do something a little special. So I made J.R. a little something out of candy and left it for him to find that morning. I thought it was fitting considering his obsession with all things planes. :)
Last weekend, J.R. sent his mom and I to get pedicures, so I wasn't expecting much of anything on Valentine's Day. I was definitely surprised when I came home that evening to a candlelight dinner. J.R. had music playing and dinner waiting for me. He even dressed up for the occasion. And this is why my husband rocks this week. He's so thoughtful.
After dinner we went and rented a movie, Red (yeah I know not the most romantic of movies but hey it's what I wanted, plus the title was fitting at least.). We just relaxed the rest of the evening. It was a good way to celebrate the day.